Frederic Wilhelm Yocum Genealogy
of Loup County, Nebraska
---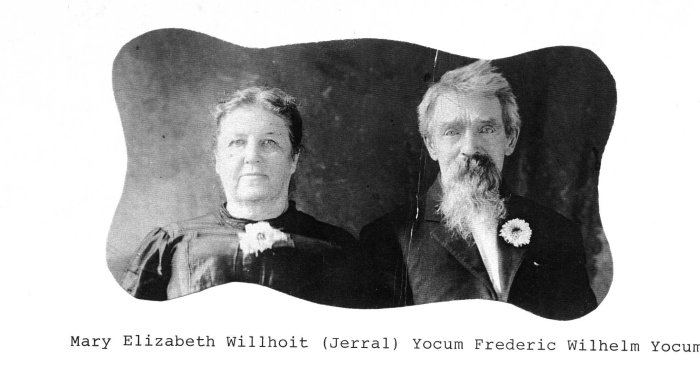 ---
This Yocum family of Loup County, Nebraska begins with Frederic Wilhelm Yocum, born December 5, 1839 in Germany. He was likely the son of Henry Yocum (German spelling Jochen or Jochem or Joachim), born about 1808 in Lippa. Henry travelled from Bremen to the port of New Orleans in late 1848, and settled in Widner Township near Freelandville, Knox County, Indiana (near Vincennes). He was naturalized in Knox County on 26 Dec. 1849. The 1850 Census does not mention either Henry or Frederic.
The 1860 Census of Washington Township, Knox County lists Frederick Yocum, age 20, living with Richard Mayfield, a wagon maker from Kentucky. Frederick was also listed as a wagon maker, born in Germany. Also in the 1860 Census of Vigo Township, Knox County, there is a farmer, Henry Yocum, born 1835 in Germany, with wife, Louise, born 1836 in Germany, and son, John Yocum, born 1857 in Indiana.
Frederic enlisted in the Indiana Volunteers with the Union Army on April 24, 1861. He joined the 14th Indiana Regiment at Terre Haute, Indiana, and was assigned to the 1st Brigade, a part of the 3rd Division, under Brigadier General French in the 2nd Corps, commanded by Major General Edwin V. Summer. Frederic was a Private in Company G, Regiment 14, Indiana Infantry. Frederic was wounded in the battle of Antietam September 17, 1862 and spent time in the hospital in Philadelphia. He was wounded again in the Battle of the Wilderness, Virginia on May 5 - 14, 1864. He mustered out at Indianapolis, Indiana on June 6, 1864.
After the war, he married Mary Elizabeth (Wilhoit) Jarrell (who had a son, Willie Jarrell) on March 15, 1865 in Vincennes, Indiana. Mary was born in Knox County, Indiana on Feb. 6, 1842. They had one child, Edward Ulysses S. Grant Yocum, who was born on July 6, 1868 in Freelandville, IN.
In the 1870 Federal Census, they were living in Widner Twp, Knox County, IN. Frederic was listed as a wagon maker from Prussia. Neighbors included Mary Shipman, born 1815 in Prussia and Herman Brocksmith, born 1798, also from Prussia. Mary Shipman and Mary E. Fought, age 17, were living with the Yocum family. Other Yocum families living nearby include (1) Frederic Yocum, born 1812 in Prussia, with wife Louisa, born 1818 in Prussia, sons Junius Yocum, born 1854 and Frederic Yocum, born 1857 and daughter Matilda, born 1860 all in Indiana (2) August Yocum, born 1842 in Prussia, with wife Lottie, born 1842 in Prussia and son Henry, born 1867 in Indiana. (3) In the 1870 Census of Knox County, Widner Twp., there is a John Yocum, born 1846 in Prussia, with his wife Caroline and son, Henry, born March 1869 in Indiana.
August Yocum is also listed in the 1880 Census for Vincennes, Knox County, with wife Lotta and children Henry, Ada and Fred. Also in the 1880 Census for Widner Township, Knox County there are (1) John & Lena Yocum, both born abt. 1845 in Prussia with children, Henry, William, Minnie, Elizabeth and Carrie and (2) Fred & Minnie Yocum, both born abt. 1813-1815 in Prussia.
This small family traveled to Nebraska in 1873 and settled for about 10 years in Benton Precinct, Nemaha County in southeast Nebraska. About 1883 they moved to a homestead near Mason City in Custer County. They eventually moved on to Loup County, where they made their home. Frederick died on Dec. 5, 1922 in Loup County. Mary died on April 12, 1914 in Loup County.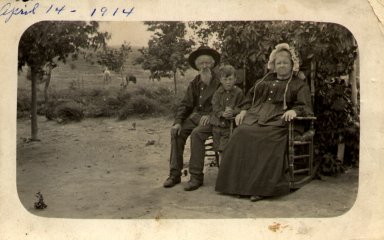 The Child of Frederick and Mary Yocum

| | | | | | | |
| --- | --- | --- | --- | --- | --- | --- |
| Child | Born | Location | Married | Spouse | Died | Location |
| Edward Ulysses S. Grant | 7-6-1868 | Indiana | 3-5-1888 | | 1-14-1944 | Loup County, NE |
| | |
| --- | --- |
| | |
| Willie Jarrell, son of Mary | Edward Ulysses S. Grant Yocum |
---
Follow the travels of the Yocum families
from Germany to Indiana on these maps.
---
Yocum Research Links
Loup County Nebraska Message Board
Knox County Indiana Message Board
Northrhine-Westphalia GenWeb (including Lippe)
German Genealogy: Lippe - Detmold
Joachim Ancestry.Com Message Board
updated 10-15-2005
---