James McPherren
James McPherren was born 7 June 1808 in Mercer County Pennsylvania, and his wife Jane Shaw was born 1 April 1805 in Rockbridge county, Virginia. James and Jane married on April 10, 1831 in Muskingum County, Ohio. They lived there until 1839. Family lived in Jefferson Township, Grant County, Indiana from 1839 to 1855. The family moved to Ohio Grove, Mercer County, IL in 1855 and the wife died 18 August 1858 and is buried in the Candor cemetery. James married Mrs. Abigail J. (Bigger) Eckelson on January 14, 1860. He joined the 30th Illinois infantry, company A on Aug. 29, 1861 in Aledo and was discharged for disability on Nov 3, 1862. He was a wagoner. His son James served in the 35th Infantry, company C, George and John S. in the 84th Infantry, company H and Andrew M. 9th Illinois cavalry. Jesse served in the 11th Illinois Cav. company C, he had already enlisted at age 15 in the 87th Ohio volunteer infantry, company K where he was captured at the Harper's ferry, Virginia.
James and wife Jane (and second wife Abigail) belonged to the Popes River Presbyterian Church in Mercer County. He was an elder there.
According to the Warren News, Aug. 23, 1889, Marion news, "James McPherren, one of the oldest survivors of the late war, died at his son-in-law's in Jefferson twp., on the 11th inst., aged 81 years. He was one of the early settlers of the county."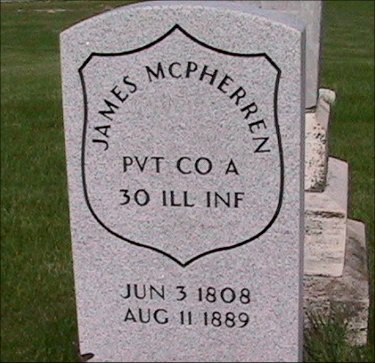 ---
The Children of James McPherren and Jane Shaw

Child

Born

Location

Married

Spouse

Died

Location

Sarah Jane

11-28-1831

Musk.,Ohio

3-7-1850

John N. Slater

7-19-1890

Reynolds, IL

George

1834

Musk.,Ohio

1-11-1859

Isabella Rine

1-1-1863

Tennessee

Elizabeth

7-16-1835

Musk.,Ohio

9-7-1852

Nicholas Shearer

7-28-1900

Mercer, IL

John Shaw

1838

Musk.,Ohio

Hannah M.

aft. 1920

Mercer, IL

Mary

6-6-1839

Grant, Indiana

6-6-1861

David Horner

Indiana

Andrew Martin

abt 1840

Grant, Indiana

William S.

1841

Grant, Indiana

California?

1842

Grant, Indiana

11-19-1867

Adella McFadden

1922

Republic, KS

Lydia

1845

Indiana

Jesse Workman

2-1-1847

Indiana

10-15-1871

Nancy Weeks

Amanda Weeks

Mry Petrie

7-8-1926

Danville, IL
---
The Children of James McPherren and Abigail Eckelson

| | | | | | | |
| --- | --- | --- | --- | --- | --- | --- |
| Child | Born | Location | Married | Spouse | Died | Location |
| Iva I. McPherin | 1862 | Mercer, IL | | | | |
| Charley G. McPherin | 1864 | Mercer, IL | | | | |
| Maggie McPherin | 1869 | Mercer, IL | | | | |
references: 1880 US Census, Mercer County, IL and Obituary of Abigail
---
Links:
Ancestry.Com SHAW Message Board
updated 6-21-2008