Family of James McFerran and Sarah McElroy
---
James McFerran was born in Ireland about 1773. He married Sarah McElroy, who was of Scotch descent. Sarah, born 1779, was the daughter of Andrew McElroy and Suzanna. This family lived in Loughbrickland , Drumnahare Townland, in County Down, Northern Ireland. Wayne McPherren (deceased) had a picture of this house, a stone structure, slate roof, fireplaces on either end with a chimney in the center, barred windows and center barred door. There is a stone and ornamental iron wall surrounding the house. The place is heavily shrubbed with roses and with large trees in the background. Quite a respectable looking home for those days, and though Grandma's Bible does not so state, I assume the children were born there. Most of the McPherren history was taken from Grandma Emma McPherren's Bible. (Emma Clark m: James R. McPherren)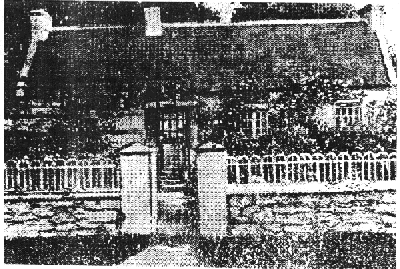 James McPherren (the 2nd) and his wife, Nancy Rudock, migrated from Ireland in a sailing vessel, landing in Philadelphia, 13 May 1848/49 and went on to Pittsburgh, PA. Nancy died 12 August, 1848/49 in Birmingham, PA of cholera and disentary contracted at sea.
George McFerran and Maria lived in Pittsburgh, PA and probably ran a store. They adopted Joseph McPherren, son of James and Sarah (2nd wife), for $1000. Joseph was later killed by a store sign of his own name, which fell on his head during a windstorm. George and Maria had the following children: James (1842), Jane (1844), Mary (1854), and Samuel (1856). Baptism records were found by Arlene Kuehnle (sister of Roger Cox) at the Presbyterian Church in Loughbrickland in 1987. In 1987, there were 98 McFerran's listed in the phone book for Northern Ireland. (12 J. McFerran's)
A tombstone was found in a cemetery near the Presbyterian Church in Loughbrickland that states: "Erected by James McFerron of Pittsburgh in Memory of his grandfather James McFerron who died the 15th of Feb. 1841 Aged 68 years. Also his grandmother Sarah McFerron who died 5th March 1859 Aged 80 years. Also his mother Maria McFerron who died 15 Feb. 1876 Aged 76 years." Maria's parents were likely Samuel Heslop (b:1767) and Mary Woods (b: 1777). (More information on Maria Heslop can be provided by Debbie Cupples Morinello)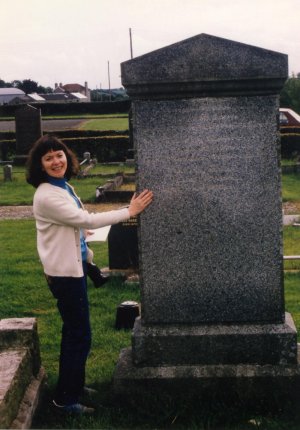 From the book of "Marriages" at the Loughbrickland Presbyterian Church, Nov. 13, 1846: "Joseph Giniff and Sarah McFerren, he was from Drumnahare, she from Lane Townland, ages both in majority, bachelor and spinster, the father of Sarah was from Drumnahare, James McFerren." (The couple's occupation was listed as farmers) According to John Joe Sands, Bovenett House, Loughbrickland, Bambridge, County Down, Ireland, some of the Giniffs still live in Loughbrickland as of 1990.
Joseph Ginniff (1810-1870) and his younger brother John Ginniff (1812-1877) farmed together at "The Hollow" in Drumnahare Townland. Joseph and Sarah had 2 children - Mary (1847) and James (1848). Mary married James McComb in 1873 and had one child - Sarah Elizabeth McComb. James married Sarah Ann Campbell and they had 5 children - John, William, Mary, Margaret and Thomas. (This information provided by Stan Thompson - grandson of Sarah Elizabeth McComb)
Children of James and Sarah McFerran:
Mary Ann McFerran m: James Lackey

Esther McFerran m: John Heslop

Sarah McFerran m: Joseph Ginniff

George McFerran m: Maria Heslop (b: 1799/1800)

Ellen McFerran m: James Pendleton

James McPherren b: 1820 m: Nancy Rudock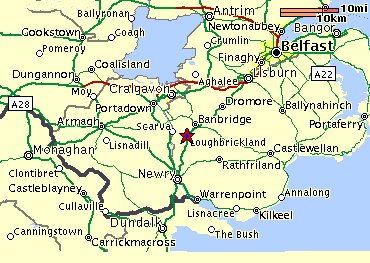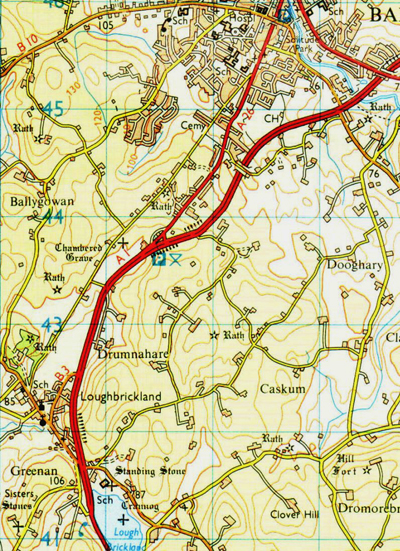 ---
updated 2 Feb 2005