Descendants of John Cox and Hannah Wilkinson

---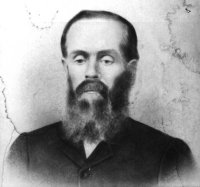 John Cox (~1900)
---
John Cox was born on May 17, 1838 in Hallgarth, County Durham near Pittington and Sherburn, England. (His obituary says that he lived 66 years, 11 months and 2 days and died on Thursday, April 20, 1905 in Taylor County, Iowa) His father was Francis Cox, also a coal miner. From 1879 to 1905, he lived on a farm in Taylor County (southwest Iowa). From 1885 to 1905, he was totally blind, caused by the foul air of the mones (mines) in which he worked in England. John Cox was a "tinner by trade". We believe that he made whale-oil lamps for coal miners, and possibly worked in the pits while in England.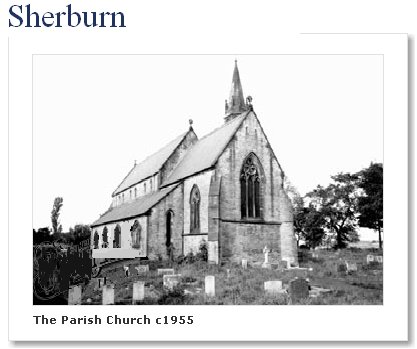 John Cox came to the states (Illinois) before the Civil War (before 1862) and was offered money to fight in the war, but he declined, not being a citizen of this country at that time. John wrote letters to his home town sweetheart, Hannah Wilkinson and she came to America in September 1865 to marry John. Hannah was born in East Rainton, County Durham, England on June 2, 1840 and died Oct. 8, 1929 in Lenox, Taylor County, Iowa. Hannah's parents were Richard Wilkinson and Hannah Maughan of County Durham, England. Hannah was third in a family of nine children and was the last survivor of her father's family. She married John Cox of La Salle County, Illinois on Oct. 4, 1865.
They spent 8 years in LaSalle County, Illinois (1865 to 1873) then 5 years in a colliery at Bishop Middleham, Durham, England (1874 to 1879) and in 1879 moved back to the states to Taylor County, Iowa.
While in Illinois; Anna, Hannah and Jenny were born (1866 - 1870). Richard was born in a colliery (coal miner housing) near Bishop Middleham, Durham County, England on Nov. 12, 1875. John F. Cox was born Aug. 30, 1879 in Taylor County, Iowa. John took the initial "F" later to keep the mail from getting mixed with his father, John Cox.
---
Obituary:
Adams County Free Press - Corning, Iowa
Sat. April 22, 1905
John Cox of Holt township, Taylor County, died on Thursday morning at 4 o'clock of heart trouble, aged 66 years, 11 months and 2 days. He had been ailing for some months but his sickness was not considered serious until thirty minutes before his death. He was born in England and came to this country a number of years ago and for the past 26 years lived on the farm where his death occured. For twenty years he had been totally blind caused from foul air of the mines in which he worked in England. He leaves a wife and five children to mourn his loss. The children are: Mrs. John Gunderman of Taylor County, Mrs. Charles Mooney of Kirksville, MO., Mrs. Mark Leach of Lone Star, OK, and R.W. Cox and John F. Cox who reside in the neighborhood. The funeral will be held from the Fairview Church today at 2 pm conducted by Rev. J. W. Ackley. Internment in Prairie Rose cemetery.
---
The Children of John Cox and Hannah Wilkinson

Child

Born

Location

Married

Spouse

Died

Location

Anna Caroline

7-12-1866

LaSalle, Illinois

10-12-1886

12-18-1944

d: California

buried: Lenox, Taylor, Iowa

Hannah

9-24-1868

LaSalle, Illinois

2-27-1894

Charles Mooney

?

Kirksville, MO

Jane "Jennie" I.

5-30-1870

LaSalle, Illinois

11-2-1899

Mark A. Leach

(died 7-16-1947)

4-28-1958

Yakima, Yakima County, Washington

11-12-1875

Durham, England

10-11-1905

Lora Pearl West

3-21-1959

Omaha, Nebraska

8-30-1879

Taylor, Iowa

2-18-1903

10-7-1960

Corning, Adams, Iowa
References:
1. Marriage license of John Cox & Hannah Wilkinson, La Salle County, IL 10-4-1865, Vol. C, Lic. 3446 (for a copy, send $7 to: County Clerk, La Salle County Court House, 707 Etna Road, Ottawa, IL 61350)
2. 1860: Freedom Town, LaSalle County, IL., 1870 Federal Census: ?
3. Naturalization Papers of John Cox, LaSalle County, IL, November 4, 1872 (from Great Britain).
4. Birth Certificate of Richard Wilkinson Cox, Nov. 12, 1875, Bishop Middleham, Durham, England.
5. Birth Certificate of Hannah Wilkinson, 2 June 1840, East Rainton, County Durham, England.
6. Lest we Forget - The Miner's Bond
8. Cox family Bible - copies provided by Barry Heimbigner in July 2003
updated 16 Jan 2005
---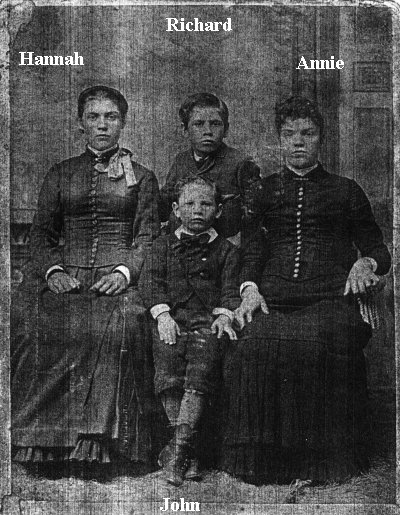 Children of John & Hannah about 1885
---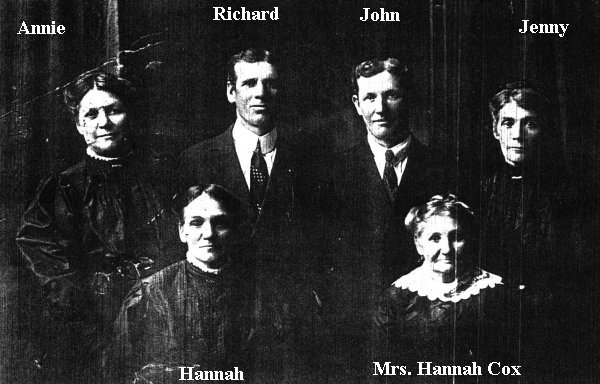 Cox Family in 1927
---
---
Roger A Cox, Spring Lake, MI (rgcox2 -at- gmail.com)